NATURAL HEALTH with HERBS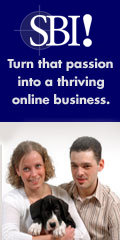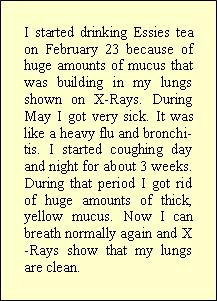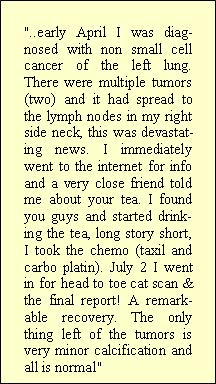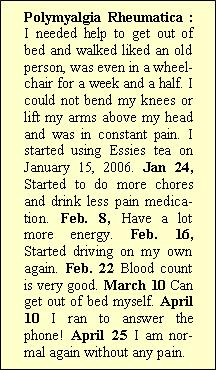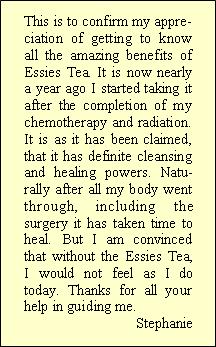 natural health... "natural = present in or produced by nature, rather than being artificial or created by people, health = a healthy state of wellbeing free from disease, the general condition of the body or mind, especially in terms of the presence or absence of illnesses, injuries, or impairments"

WHAT IS ESSIES TEA

Essies tea is a popular organic herbal supplement used to aide people in obtaining excellent health the natural way. The combined positive effects of the eight different herbs of Essies Tea boosts the immune system and detoxifies the body. People battling arthritis, cancer, cholesterol, diabetes, multiple sclerosis and more testifies about the tremendous properties of Essies Tea
Herbs have been used for centuries in the everyday battle for good health. In the modern era, science caught up with society and DRUGS was born. Drugs took over the role that herbs used to play, and along with the drugs came the awful side-effects.
People only started looking for natural supplements in the last few years, especially because of the so-called drug poisoning. Drugs meant to kill the diseases it is taken for, also destroy our bodies and immune systems as an added side-effect.
The herbs used in Essies Tea was used by the Ojibwas tribe in Canada as a natural cure for diseases. An Ojibwas "medicine man" gave the formula to a lady that had breast cancer in the early nineteen hundreds. She recovered completely and gave the formula to a nurse, who, in turn passed it down.
As soon as the demand for natural supplements grew, supply had to keep up and the vitamin and nutritional supplement pills hit the market. Because it is not drugs, people feel safer using it, and that is true to a certain degree. But to be able to have a long enough shelve life, manufacturers had to ad preservatives and other preserving methods. If it is in a pill or a syrup form, chances are 99% that it contains additives.
Essies Tea is a 100% pure organic herbal mixture, powdered and mixed for optimal effectiveness. The powdered herbs can last for up to one year, and can therefore be freshly brewed when needed. This way you know that nothing is added to your tea. Just pure natural organic freshly brewed herbal tea.
Call our toll free number
1-866-45-alive / 1-866-452-5483

'Asked for his opinion on the effectiveness of this herbal tea, Dr. Brusch replied: "This herbal tea has tremendous merit to supplement any therapy a cancer patient may be using. I can't call it a cure, but it definitely had and still has important merit. I regard it as essential to back up any other therapy."'
[Dr. Brusch is a doctor of high reputation (a citation from the city of Cambridge, an award from the Governor's Council of Massachusetts for 30 years of unexcelled medical care, a life membership in the Dante Algihieri Society for philanthropic work), so his observations and endorsement of an herbal tea carries great weight]
"Hi, so far I love your product. My lab results showed me in the non-diabetic category for the first time and ALL my results improved (I have been on the severe dose for about a month now). I also have, for the 1ST TIME! other average (normal) lab results. Not to mention what it has done for my Chronic Fatigue Syndrome and overall energy level. My only regret is that your product hasn't made me quit smoking (yet!)."


The eight herbs of Essies Tea are: Kelp, Red Clover, Watercress, Sheep Sorrel, Burdock Root, rhubarb-root, Blessed Thistle, and Slippery Elm Bark.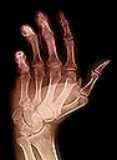 When the eight herbs of Essies tea is mixed the right way and taken in strong enough doses for the condition taken for, it supports the immune system of the body, detoxify and cleanse the body, and according to testimonies from people that had cancer, it has a positive effect on tumors.
"I am very thankful that I began to use Essies' Tea. It changed my life. My back, neck, and shoulders were in pain for years because of Osteo Arthritis. I tried everything without any success, until I finally found Essies' Tea. Now I can do the housework on my own and I can walk without any pain. My high blood pressure has gotten so much better that I now only have to drink half of my prescription."

It is safe to take in conjunction with any treatment and/or chemotherapy and/or radiation.
In fact, people that are using it while they have chemotherapy and/or radiation says that it helps immensely to minimize the awful side-effects associated with those treatments.
Visit our product page for prices and to order.

No wonder that people call it a natural cure, read what people that were once without hope have to say about Essies tea.

"I was diagnosed with rectum cancer in Feb. of 2004. "After chemo and radiation, I had 3 operations, the last one in Nov. of 2004. With a consultation on April 4 2005, I was told that the cancer has spread and that they could not do anything else for me. They made an appointment for July 4 2005 and told me that I do not have to go if I do not want to. Since May 11 2005 I have been using this tea and with the appointment, I had gained my weight back and was told that my body was clean of all cancer."

"And God said, Behold, I have given you every herb bearing seed, which is upon the face of all the earth, and every tree, in the which is the fruit of a tree yielding seed; to you it shall be for meat." Genesis 1:29

____________________________________

"I have rumatoide arthritis, and nothing helped. My hands and fingers were crumpled together with pain and I could not hold anything with my hands. I could not even make my own bed. Since I started with Essies tea one month ago, I can use my fingers and hands again and the pain is gone. Thank the Lord for this tea, I feel wonderful."
"He causeth the grass to grow for the cattle, and herb for the service of man: that he may bring forth food out of the earth" Psa 104:14
The list of satisfied customers calling Essies tea a natural cure just goes on and on...
Call our toll free number
1-866-45-alive / 1-866-452-5483



Priceless Home Remedies-Simple, natural, priceless home remedies; solutions for common ailments and household problems that will save you money.


Essies tea works wonders for your body and immune system.
The eight herbs of essies tea & their function
Arthritis, pain relieve and normal activities
A short desription of the main cancer types and there symptoms
Cholesterol symptoms are rare and treatment options limited
Health Benefits of Essies tea on the body and immune system.
Testimonials from people using natural cures.
Natural Health and Longevity Tips by Essies Tea
Case Studies of the benefits of Essies tea
The different products of Essies tea
Herbal nutritional supplements for acne, heartburn,... diabetes, cancer
Contact us
"The Natural Cure Blog keeps you up-to-date with all additions and changes to the your-natural-cures.com Web site. Subscribe here."
Before and After pictures of acne
Essies tea blog
Hodia Diet, the diet that really works
Would you like to share your knowledge about natural health? Great, find out how you can submit your story or tip here.